Install a State of Art Intercom System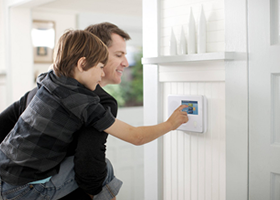 Ask yourself the following five questions:
Do you have a large living or work space?
Is your facility multi level?
Do you have a large house populated with young children?
Do the occupants of your home have a need for instant communication?
Will your business operate more efficiently with fast communication?
If you said yes to any of the questions above, we can help! Sixth Sense Solutions offers a free consultation so we can go over your specific needs and select the communication products and services that are fit best for you and your home.
Houston Home Intercom System
We've found ways to reduce the noise pollution within your home. Our state of the art intercom system will end the room to room shouting, and our remote controls will offer the convenience you need so you can focus more on other matters that are important to you. As an added bonus, we can add more style into your home, with customized door chimes.
Want to find out which home intercom options are best for your home? Give us a call at (832) 930-2040 for a free inspection and quote.
Not in Houston? Not a problem! Our clients are in The Woodlands, Spring, Cypress, Sugar Land, Missouri City, Rosenberg, Richmond, Pasadena, Pearland, Clear Lake, Galveston, Seabrook, and more.